How To Prepare Documents For Shredding
It's finally time to toss those boxes of documents that have been sitting in your storage closet for what has seemed like ages…And to be honest, it has been ages because if you've kept the documents for the length of time required by HIPAA or Sarbanes-Oxley, they've been there for close to 7 years!
Every year (or every six months if you have a large business that sees a high volume of secure documents), your business should be shredding documents that you no longer need in order to save space, stay organized and keep up-to-date with compliance laws.
If you've never been in charge of getting your company's documents ready for shredding before, we have some tips to help you streamline the process and properly prepare documents for shredding!
Don't Shred Alone!
Our most important tip when it comes to shredding documents is don't do it alone! When you're storing sensitive documents and data that eventually need to be shredded, a good rule of thumb is to not shred them in-house with your regular office shredder but instead use an off-site document shredding service. Even if you don't choose to house your documents in an off-site facility, you will want to ensure that they are properly destroyed so that no one is able to commit identity theft or fraud.
You may think that identity theft and fraud are only committed online, but the truth is there are people who will go through the trash and piece together shredded documents to get the information they need.
That is why it is imperative that you dispose of the documents with a professional shredding company and not just put the shredded pieces in the trash. Storage and shredding companies should be NAID certified (like us) which gives them specific destruction and disposal processes and procedures for destroying documents and data.
Organize What Is Going To Be Shredded
When you prepare documents for shredding, you might notice that you have other items like CDs, hard drives, flash drives, and even old documents that might have been missed before.
According to compliance laws (HIPAA, Sarbanes-Oxley), you are required to keep track of your sensitive documents. You need to log what the document is when it entered storage and when its due date to be destroyed is, depending on the type of document it is.
You'll want to check that list with the documents and data you have ready to be destroyed. Checking the list (and checking it twice) will ensure that you don't accidentally shred something that isn't due yet or destroy a document that should be kept indefinitely!
Pro Tip: Read our latest article, which discusses how to know when to destroy important documents, for more information!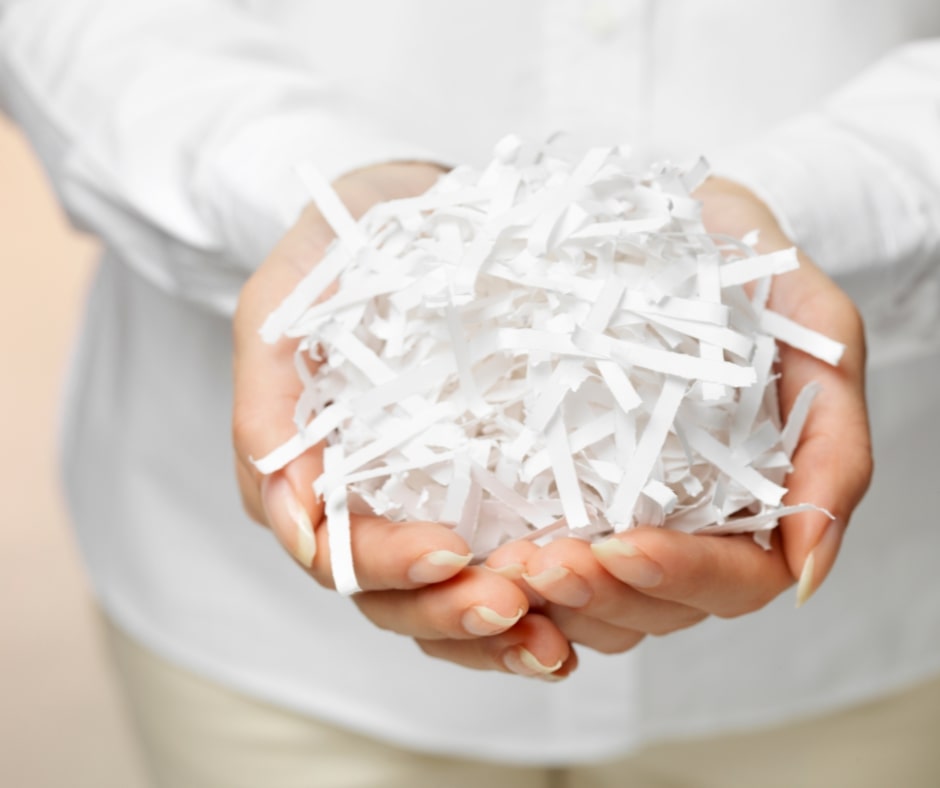 Get Your Certificate Of Destruction
To finalize the document storage and destruction process for your sensitive documents that fall under HIPAA, Sarbanes-Oxley, or other compliance laws, you need to receive a Certificate Of Destruction. This confirms that you properly disposed of sensitive information with a reputable company according to any compliance laws. You'll typically keep this certificate along with the others in a file or binder. You need to keep these certificates for future audits and reference to see what was destroyed.
Don't Stress When It Comes To Shredding; Let Docu-Trust Take Care Of All Your Storage And Shredding Needs
Instead of stressing about how to prepare documents for shredding, let Docu-Trust handle the task! When you partner with Docu-Trust, we will store and destroy your protected documents according to the specific compliance law your company needs to follow.
We offer affordable, secure legal document storage at our state-of-the-art facility. You will find that there is no safer place to store your sensitive information than at our secure facility. No one but our staff is allowed on the storage room floor; however, you will have access to your documents anytime via our viewing rooms and delivery service.
To start protecting your documents and have peace of mind that they were destroyed properly, contact us today!