Secure and organized record storage
With the abundance of internal controls, records management policies, and compliance laws such as HIPAA and Sarbanes-Oxley, many organizations are faced with an inordinate amount of paper.
Docu-Trust provides a wide variety of offsite records storage solutions for paper records, microfilm, X-ray, dental molds, digital data, and much more.


Docu-Trust's archival storage solutions, coupled with industry-leading inventory management and Scan-on-Demand retrieval services, are an extension of your filing/storage rooms and provide a cost-effective partnership for operational growth and success.
Free Records Management Software
Offsite records storage and records management services provide customers with the freedom to utilize space efficiently, gain profitability, and ensure secure, reliable access when necessary. Our software offers:
Security and Peace of Mind
Docu-Trust's Records Storage Center is continually monitored by professional security services and is closed to the general public. Facility entrances are secured at all times, and all approved visitors require registration prior to gaining escorted entry into the facility. To further ensure record safety and protection, only authorized, Docu-Trust staff have access to customer records, and all employees are held to the highest of confidentiality and ethical standards.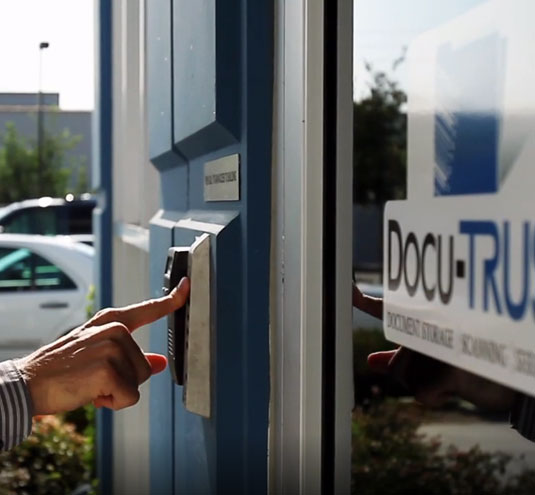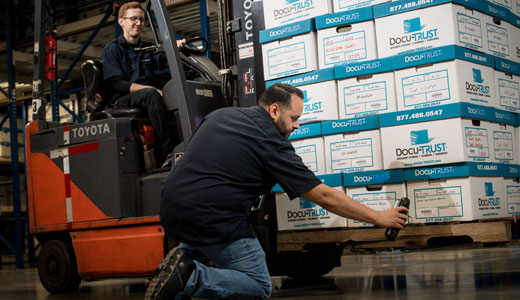 Scan-on-Demand services provide customers the cost-saving benefits of offsite storage along with immediate secure access.
INFORMATION SECURITY FOR THE DIGITAL AGE
Secure Data Storage and Data Archival Solutions
Docu-TRUST offers scheduled service, 24/7 Web access, and a secured environment. We are the industry leader in providing efficient and cost-effective off-site data storage solutions.