Off-site or On-site Document Shredding, Which is Best?
Close your eyes and imagine a beautiful mountain with snowy peaks and gorgeous views. So peaceful, isn't it?
Now, open your eyes and see MOUNTAINS of paperwork that you've been meaning to shred and dispose of at work. We'd prefer the beautiful mountain.
So what do you do with all of those documents? Do you let it pile up in a storage room to be "saved" and then forgot about until you cram that room with every last piece of paper possible?
If you're keeping documents for a length of time, they are most likely financial, medical, or have important and sensitive information on them.
Once you realize that these documents have outlived their "save by" date, so you start using your small office shredder to destroy them? Or do you call a company to shred them for you?
Let's talk about on-site vs. off-site shredding and which one is better for your company.
On-Site Shredding
You may think that this option can save you money because you're not "outsourcing" what seems to be a simple task. However, not putting effort into understanding the guidelines and information set forth by HIPAA, Sarbanes Oxley, and other acts could result in fines and legal action being taken if you are out of compliance or if your information gets hacked.
Do you know the first place people look when they want to steal someone's important and secure information? SHRED BINS and dumpsters. 53% of identity theft cases originate from a NON-DIGITAL source.
If you're not correctly disposing of your shredded items, you can put your entire company and patrons at risk for exposure and identity theft.
When shredding confidential paperwork, you must get a Certificate of Destruction. If you aren't a qualified shred vendor, you cannot create that document in-house. If you get audited and do not have the proper paperwork and files, you can be fined or even shut down!
But if you're not doing document shredding on-site, how can you trust what happens off-site when your documents are being taken to a facility?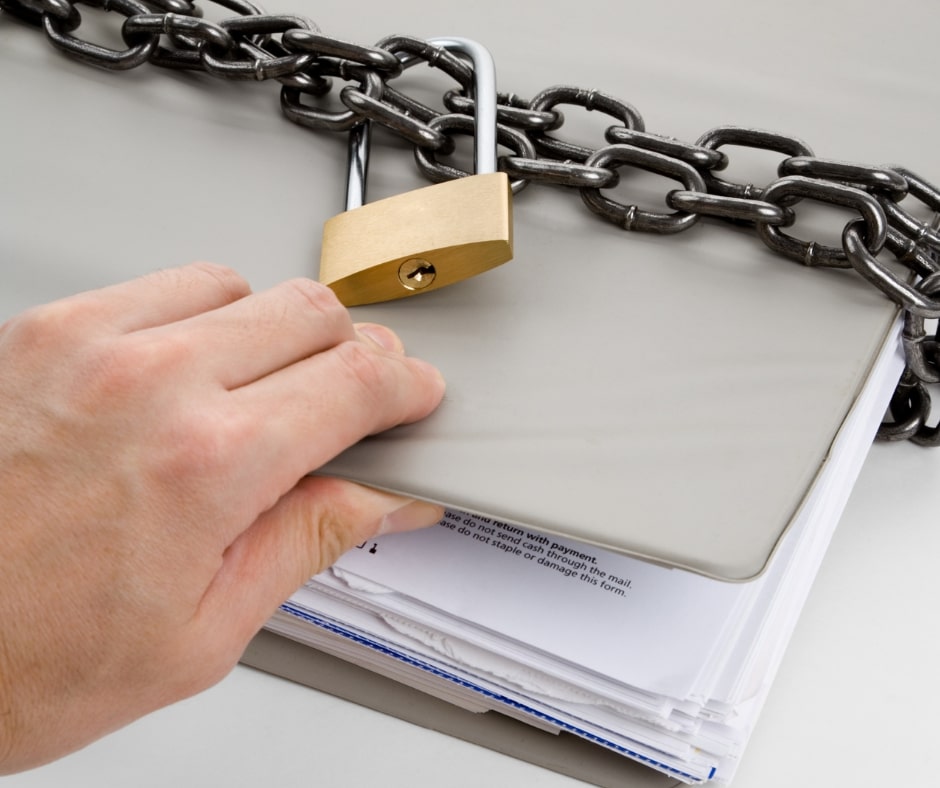 Off-Site Shredding
The most crucial piece of giving your documents to a shredding company is doing your due diligence and choosing a trustworthy and certified business. doing
Here at Docu-Trust, we are the experts in document safety, security, and disposal.
We've implemented solutions and controls to help your confidential documents STAY confidential, even when it comes to destruction and disposal.
In previous articles, we've discussed the importance of document shredding and how we manage record storage in our secure facility.
Storage and Safety
When it comes time to move documents and files out of your system, you no longer need to store them in a closet and allow them to take up space. Instead, you can place them in our secure storage facility protected from internal and external elements. We offer affordable record storage options because you only pay for the space you use, compared to damp storage units that aren't temperature-controlled. You can trust us with your most important and valued documents. Have paperwork that needs protecting? We've got you covered.
When we pick up your items, we will give each box a unique bar code that tracks what is inside the documents, the date of storage, and the date of destruction. This way, when you need a record for auditing for research purposes, you can go to your client portal, and request access, and our bar code tracking system will locate the box you need!
We will deliver those items, or you can view them in our secure viewing rooms.
When it's time to destroy your documents or files, we've got that taken care of too!
Document Destruction
After your documents have outlived their storage time, you can now properly dispose of them. Our logistics system keeps track of when items can be disposed of and send you a notification.
We have a fail-safe system that requires signature sign-off to start the destruction process. This ensures that you keep the documents that you need and allow the others to be disposed of.
This is all done at our facility, and when destruction is complete, we send you a Certificate of Destruction (COD) for your records.
We comply with HIPAA, Sarbanes-Oxley, and other compliance requirements, and we use NAID-certified data destruction technology.
Because of our certifications and experience, we can shred paper files, digital data, and physical data storage it is housed in.
Let Docu-Trust Shred
We work with industries all over Nevada, California, and Arizona to keep their documents safe and secured from storage to destruction.
We've got 25 years of experience in this industry and comply with many organizational compliances and federal safety regulations.
If you've got confidential files, we've got the space and certification to keep and dispose of them properly.
The best part? We can do it affordably and help your business save time and money! Connect with us today to see how we can help!